Roofing and Sheet Metal Architecture in Wisconsin
Commercial Roofing and Sheet Metal Fabrication Company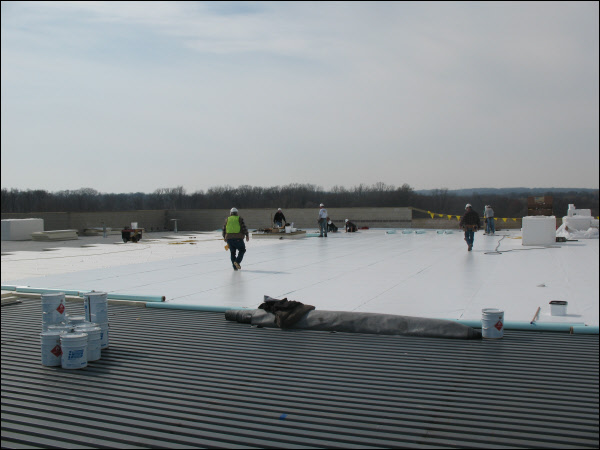 Founded on July 5th, 2005, SRS has 5 owners who comprise of our office staff and field staff. All 5 owners came from Specialty Associates Inc (SAI) in West Allis who went out of business in 2005 after being in business for 30 years. Specialty Associates Inc was part of General Roofing which was purchased by Tecta America in 2005.
SRS is:
GAF Master Roofing Contractor
Certainteed Silver Star Contractor
Live Roof Certified Installer
DHS Certified Asbestos Exterior Company
State of Illinois Licensed

SRS has won:
2005 AGC Perfect Safety Award
2008 AGC Perfect Safety Award
2009 Roofing Contractor Magazine "Top 100"
2010 Johns Manville Peak Advantage Award
2011 Gulf Eagle Presidents Club Award
2011 Carlisle ESP Excellence in Single Ply
2011 Carlisle Perfect10n Award
2012 AGC Leadership in Safety Award
2013 Sika Sarnafil Partners Club Award
2013 Carlisle Perfect10n Award
2013 Carlisle Council Award
2014 Carlisle Perfect10n Award
2014 Carlisle Council Award
SRS was also featured in Biz Times Magazine as a 2012 cover story.
Click here to read biographies of our staff.
The original roofing company was founded in 1975 and operated from its main office in West Allis, WI and attained annual revenues in excess of 24 million dollars while employing more than 200 people. After many years of success, the company was acquired by a large national firm based in Ft. Lauderdale, FL, making it the largest roofing company in the United States. The goal was now volume and large national customers. Improvements in operating efficiencies and reduced overhead costs through centralization of accounting and management services were the main focus of the new national owner.
After a few years of limited success, the entire national organization was acquired by another investment firm in Aurora, CO and reorganized. After some management changes and unit closures to improve overall profitability, the entire organization was once again sold, this time to a large national competitor.
Those of us who founded SRS Roofing & Sheet Metal decided while continuing our journey with the large, national company may have short term security and benefits, long term success and stability would only be more likely through the formation of our own company operated locally.
We believe construction is a relationship business. People do business with people they trust. The ability to live up to our commitments to our customers and to our vendors could only be guaranteed by local ownership and management.
Many of our owners and managers were with the original firm when it was founded in 1975 and as a group we have more than 300 years of combined experience in the roofing and construction industry. Our experience has brought us to where we are today.
We believe having "An owner on every project" has benefits no other roofing and sheet metal company can offer. The benefits are for our customers, vendors and our employees which could not be replicated without local ownership, local management and the commitment coming from employee ownership.
Contact experienced roofing contractors in Wisconsin for reliable installation and maintenance services today.