Commercial Flat Roofing Construction and Repair
Wisconsin's Commercial Flat Roofing Specialists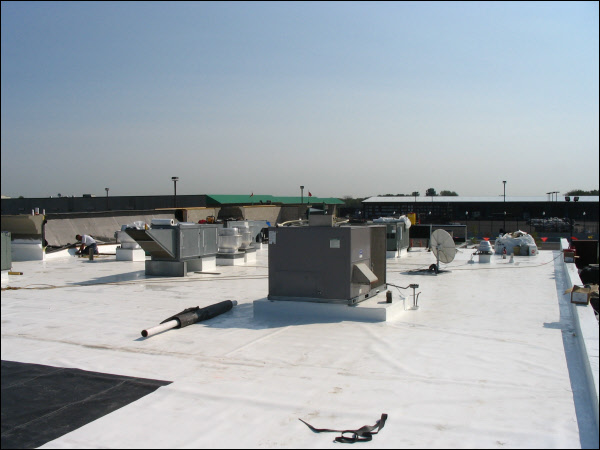 Commercial flat roofs need to be properly chosen and installed to protect buildings from catastrophic water and weather damage. SRS Roofing & Sheet Metal guarantees a safe, proper installation or repair of your commercial flat roof. Whether you need commercial flat roof construction or a repair to an existing roof, our roofing specialists install and repair:
TPO roofing
PVC roofing
Built-up hot asphalt (BUR) roofing
EPDM rubber roofing
Green roofing systems
Contact the roofing specialists at SRS Roofing & Sheet Metal for a durable, long-lasting flat roof today.
Commercial TPO Flat Roofs
Environmentally friendly TPO roofs are fast becoming the commercial flat roof of choice. TPO commercial flat roofs are heat-reflective and long lasting. These systems are also the most economically priced roofing material available. It has good resistance to hydrocarbons and inhibits microbial growth.
The TPO material is attached to your roof using either screws or industrial glue. You also get to choose the thickness of your new commercial roof, ranging from 45 millimeters to 90 millimeters, depending on your building's specific needs.
SRS Roofing & Sheet Metal can install TPO flat roofs on new construction or even over existing commercial flat roofs to save time and money. TPO roofs in need of repair are also easily handled by our professional roofers.
If your current roof begins to leak or the seams become loose, our highly trained team of roofing professionals has the right tools and experience to get the job done quickly, at affordable prices.
PVC Commercial Flat Roof Repair and Installation
PVC flat roofs offer extreme durability, with incredible puncture and heat resistance. Their heat-welded seams minimize leaks while maximizing roof stability.
The ability of this roofing system to expand and contract in varying temperatures without cracking or becoming damaged makes PVC one of the most reliable roof materials on the market today.
PVC is a light material, and comes standard in white; however, there are a variety of color variations available. Installation and repair of PVC commercial flat roofing systems are no problem for SRS Roofing & Sheet Metal.
EPDM Commercial Flat Roof Installation
EPDM roofing systems are a sturdy, economical way to roof a large, flat area. Made of synthetic rubber, EPDM is a durable, long lasting roofing material. The long life and low cost of EPDM make it an ideal choice for expansive applications.
EPDM possesses an incredible resistance to snow, UV rays and wide temperature variations. This makes it an especially good choice for roofing Wisconsin businesses, thanks to unpredictable weather patterns.
This roofing material comes in black, which helps keep heating costs low during the long winter months.
SRS Roofing & Sheet Metal can install an EPDM roof using one of three common methods. River rock ballasted, mechanically attached and fully adhered EPDM commercial flat roofs are all professionally installed and repaired by the experts at SRS Roofing & Sheet Metal.
With regular maintenance, your new EPDM commercial roof will last for years to come.
Built Up Hot Asphalt Roofing System Installation and Repair
Commercial built up hot asphalt roofs are a popular, common flat roofing system. A BUR roof greatly minimizes the chance of leaks - BUR roofing is one of the most waterproof options available.
These commercial roofing systems are very low maintenance and are resistant to harsh weather conditions.
Typically, BUR roofing takes a longer time for proper installation, however once installed BUR roofs will last decades, with little to no maintenance costs.
If you are looking to install a built up hot asphalt (BUR) roof for your new construction project or need repairs to your existing commercial BUR flat roof, SRS Roofing & Sheet Metal has you covered.
Commercial Green Roof Installation
Installing plants on your commercial flat roof is an eco-friendly green roofing system. There are numerous benefits associated with installing a green roof in Wisconsin. With a green installation from SRS Roofing and Sheet metal you get:
Lower energy costs
Tax benefits
Long roof life
Absorbs harmful pollutants
A green roof is not only an investment in your business; it is an investment in the environment. Green roofing has greatly increased in popularity in recent years, as more and more businesses realize the great benefits a green roof offers.
When you decide to go green with your flat roof, look no further than SRS Roofing & Sheet Metal.
Commercial Flat Roofs with Safe, Expert Installation and Repair
When choosing your commercial flat roof, it is important to select the right system for your situation. Having decided on your roof, make sure to pick SRS Roofing & Sheet Metal to install it safely and properly.
An unsafe or improper installation can lead to very costly repairs and jeopardize the safety and structure of your building. SRS Roofing & Sheet Metal always puts our customer needs first, getting the job done right the first time.
Every job we take has one of our owners on site every day to make sure your commercial flat roof is done correctly. An OSHA trained Safety Officer is also there to ensure the roofing system is installed or repaired safely. Trust SRS Roofing & Sheet Metal to do your job right. Doing the job safely and correctly the first time will save you money and prevent costly future repairs.
Contact our flat roofing experts at SRS Roofing & Sheet Metal for safe, proper flat roof installation and repair.