Roofing Repair and Inspections
Even Durable Commercial Roofs Need Maintenance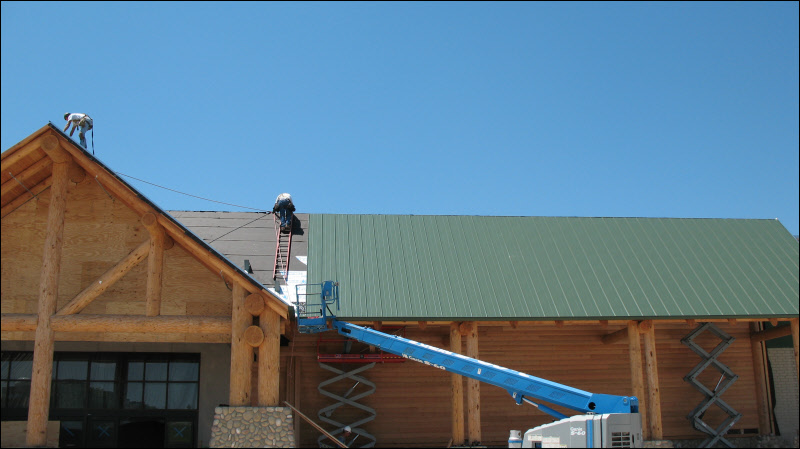 Long lasting commercial roofs can protect a building for years without failing when properly inspected, maintained and repaired as needed. SRS Roofing & Sheet Metal does more than just install commercial roofs. We can inspect and maintain your roof and make required repairs. Even if we did not install your roof, you can count on SRS Roofing & Sheet Metal to keep it working for years to come. Our roofing specialists perform the following services:
Roof inspections, including insurance claim estimate generation and budget recommendations
Routine roof maintenance
Warranty and non-warranty repair and 24 hour emergency leak services
Roof penetration, curb installation and removal and other modifications to existing roof systems
Commercial Roof Inspections
Do not wait for your roof to fail. Small problems can turn into huge, potentially catastrophic disasters if they are not caught in time. Routine roof inspections can save your business thousands of dollars.
We take the time to inspect every part of your roof, not just the seams. If we notice any areas which needs repairs, we will notify you and take the proper steps to ensure your roof and interior structure are not compromised.
SRS Roofing & Sheet Metal is able to inspect any roof system and will identify any issues before it's too late.
Professional, Accurate Insurance Claim Estimates
When your roof has been damaged and you need to make an insurance claim, do not trust an inexperienced claims adjuster. Only a professional commercial roofer can give an accurate claims estimate to fix your damaged roof. SRS Roofing & Sheet Metal's expert roof inspectors will identify all damage sustained by your commercial roof, even damage which is not readily apparent.
SRS Roofing & Sheet Metal is fully licensed and insured. We are qualified and experienced in handling insurance claims and insurance adjusters. Don't let an inaccurate estimate hurt your business, get it done right with the help of our experienced team of commercial roofing contractors.
Roofing Budget Recommendations
Trying to save money by not paying for roof inspections is like saving money by not buying toothpaste. It might work for a while, but the money you save in the short-term is nothing compared to what you will spend to fix the resulting problems. SRS Roofing & Sheet Metal will help you budget the appropriate amount to spend on routine inspections and maintenance. We offer cost-effective maintenance solutions, which will keep your commercial roof looking great and lasting for years to come.
Commercial Roof Maintenance
Your roof is your building's primary shield against natural hazards. Wind, rain, hail, snow and extreme temperatures put a daily strain on your commercial roof. Even the best commercial roof needs regular maintenance.
Constant exposure to the elements can create weak areas. If they are ignored, the small problem areas can quickly turn into large, costly problems.
Fixing small leaks, solving pooling problems and repairing minor penetrations are all necessary to prevent serious damage to your roof and building. SRS Roofing & Sheet Metal can handle any roof maintenance you require.
Emergency Roofing Repair
A serious roof leak can devastate your business. If your roof springs a leak, call SRS Roofing & Sheet Metal immediately. Our commercial roofing specialists respond to leakages at all hours. If your roof is unexpectedly damaged due to a storm our team of professional commercial roofers is available to offer immediate help.
Emergency roof repairs call for a prompt response by an expert roofer. SRS Roofing & Sheet Metal conducts repairs for roofing systems still under manufacturer warranty as well as on roofs whose warranty has expired.
Roof Modifications by Professional Commercial Roofers
Changing business needs occasionally necessitate modifying an existing roof. A poorly done roof penetration or curb installation can create a massive, costly problem. SRS Roofing & Sheet Metal's professional commercial roofers will do the roof modification you need.
From re-roofing a small area to stripping an entire roof and laying down new material, our team is available to help. We use only the highest quality roofing materials, from BUR roofing systems to TPO or green roof systems. Let SRS Roofing & Sheet Metal handle all your roof modification needs.
SRS Roofing & Sheet Metal: Commercial Roofers You Can Trust
A properly maintained roof is vitally important to any business. SRS Roofing & Sheet Metal understands your need for an affordable, functioning roof system. We are absolutely committed to our customers' complete satisfaction. To ensure total satisfaction, every job SRS Roofing & Sheet Metal takes has one of our owners on-site every day. A Safety Officer with OSHA training is also present to maintain proper safety standards are followed.
We complete all our projects on time and within budget. Our team has over 30 years of experience working on commercial roofing projects throughout the Midwest. Trust SRS Roofing & Sheet Metal to inspect, maintain and repair your commercial roof.
Contact commercial roofing specialists at SRS Roofing & Sheet Metal to schedule a roof inspection now.