Commercial Roofing & Sheet Metal Services for Wisconsin, Illinois, Minnesota and Michigan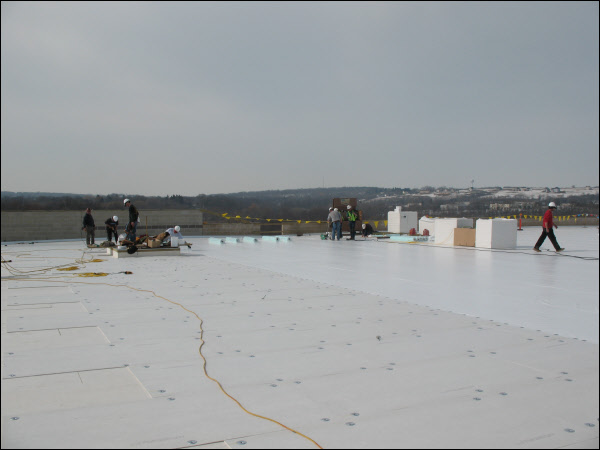 SRS Roofing & Sheet Metal provide years of experience with a wide variety of commercial roofing services. We offer everything from flat and pitched roof installation to commercial roof inspection and repair. Our Wisconsin roofing contractors are detail oriented to ensure your roof system stays in excellent condition for years.
Flat Roof Installation Services
We have extensive experience with the maintenance, design, specification and installation of low slope flat roofing systems. Our flat roofs range from energy efficient green roof systems to heavy duty EPDM rubber roofing.
SRS Roofing & Sheet Metal services:
Built-up Hot Asphalt Roof Systems (BUR)
Fully-Adhered 45 or 60 mil EPDM Rubber Roofing Systems
Mechanically Attached Single Ply Roofing Systems
River rock Ballasted EPDM Rubber Roofing Systems
Heat Welded Thermal Plastic Olefin (TPO) or Poly Vinyl Chloride (PVC) Roofing Systems
Green Roof Systems (Root Barrier, Drainage System, Growing Medium and Hearty Alpine Plants)
Temporary Roofing System Solutions
SRS Roofing and Sheet Metal, Inc. is a manufacturer licensed installer for the following roof systems:
Carlisle Syntec Roof Systems
Firestone Building Products Company
Johns Manville
Sika Sarnafil
Certainteed Corporation
Duro-Last Roofing, Inc
Fibertite Intelligent Roofing Solutions
Siplast USA
Tremco Roofing & Building Maintenance
This includes Built-up Hot Asphalt Roof Systems, Ballasted or Adhered EPDM (rubber) Systems, Mechanically Attached (RhinoBond) and Adhered TPO and PVC Roof Systems, along with Green Roof Systems.
And the following metal systems:
Mitsubishi Plastics Composites America, Inc. – Alpolic Materials
PAC-CLAD Petersen Aluminum
Firestone Metal Products
McElroy Metal, Inc
Metl-Span
Merchant & Evans, Inc – Zip-Rib
Morin Corporation
This includes Standing Seam Roofs, Radius/Curved Roof Systems, Architectural Wall Panels (aluminum composite), Soffit, Fascia, Copings, Equipment Screens, Column Covers, and Metal Shingle Systems.
Sheet Metal Roofing Systems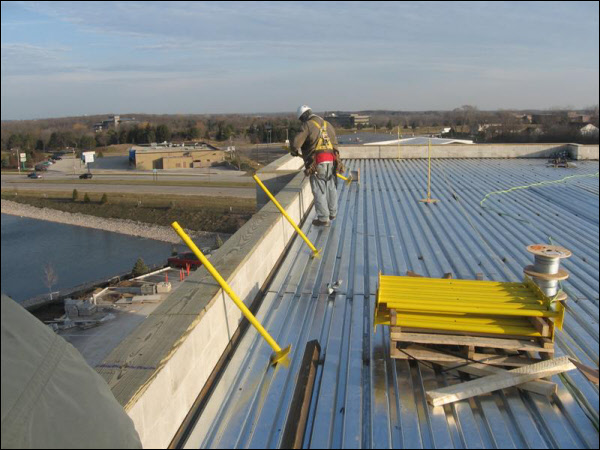 Our professional sheet metal fabrication specialists work with a wide variety of metal roofing systems. We handle all aspects of design, installation and maintenance of sheet metal roofs. SRS Roofing & Sheet Metal has extensive experience with the following architectural metal systems:
Standing Seam Metal Roofing systems
Radius / Curved Metal Roofing systems
Architectural Metal Wall Panels
Commercial Soffit systems
Metal Shingle systems
Equipment Screens
Metal Copings and Fascia
Decorative Mansard systems
Aluminum Composite Panels
Column Covers
Commercial Gutters and Downspouts
Custom Sheet Metal Fabrication to your specification
We work with Copper, Stainless Steel, Aluminum, Stone Coated / Textured Steel, Pre-finished Steel, Galvanized Steel, Anodized Aluminum and Aluminum Composite Material (ACM, ACP)
Commercial Roof Maintenance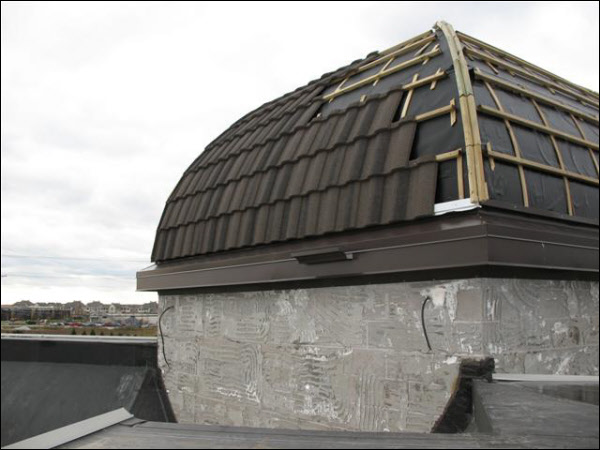 SRS Roofing & Sheet Metal has a dedicated, full time roofing service department offering commercial roof inspection and maintenance services throughout the Midwest. We provide 24 hour emergency roofing repair as well as regular repairs both in and out of the manufacturer warranty. Our roof repair services ensure your system stays in excellent condition. We offer the following services for commercial roofs:
Roof Asset Management Program (Roof Inspections)
Budgeting recommendations
Insurance Claim Estimates
Roofing system maintenance programs and
24 hr Emergency Leak Service
Manufacturer Warranty repairs
Non-warranty roof repairs
Roofing system HVAC curb installation and removal
Roofing system penetrations
Single point of contact for all of your roofing needs