Steep Slope Roofing and Architectural Sheet Metal
Wisconsin's Commercial Roofing and Architectural Sheet Metal Experts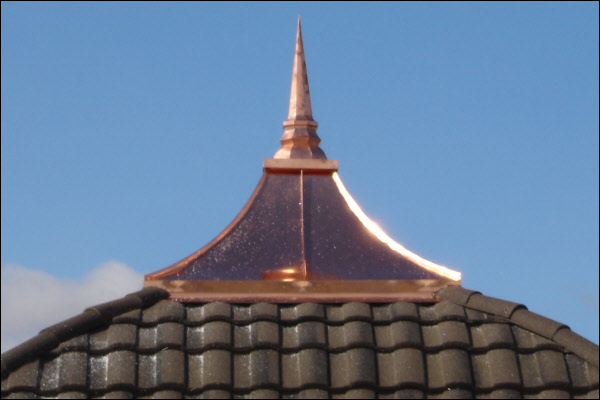 Commercial roofs must be installed correctly to protect a building from grueling weather. Trust SRS Roofing & Sheet Metal to install or repair your commercial pitched roof and wall panels. We specialize in a variety of commercial metal roof systems and details. Whether you just need a commercial roof tearoff or are looking for a complete roofing system on your construction project, SRS Roofing & Sheet Metal can meet your need from beginning to end. We specialize in the following commercial pitched roof and architectural metalwork solutions:
Metal shingle, standing seam and radius / curved metal roofing systems
Aluminum composite and other architectural metal wall panels
Commercial soffits, fascia, coping, flashing, gutters and downspouts
Decorative mansards, column covers and equipment screens
Any architectural or roofing metalwork involving copper, aluminum and stainless steel
Contact metal roof installation experts at SRS Roofing & Sheet Metal today for a quote.
Commercial Metal Roofing Systems for Any Need
A commercial metal roof is an excellent, long-term solution for pitched commercial roofs. The durability of a metal roof, and the increased fire-resistant safety features make a commercial metal roofing system an excellent choice for small or large spaces. Metal roofing typically lasts anywhere from 40-70 years. With a wide variety of colors and metals to choose from, we're confident you'll be satisfied with the finished product.
SRS Roofing & Sheet Metal can install any style of metal roof you need. Metal shingles mimic the look of traditional asphalt shingles and are great for a smaller, more welcoming commercial application. For large, industrial-style commercial metal roofs, SRS Roofing & Sheet Metal can install sleek, straight standing seam metal roofs or elegant, curved metal roof systems. No matter the application, a metal roof is a great investment for your business.
Architectural Wall Panels Installed Professionally
Aluminum composite and other metal architectural wall panels offer a clean, low-maintenance exterior wall solution for commercial settings. Metal architectural wall panels are also a more durable alternative to traditional panels. A metal exterior is incredibly tough and will withstand corrosion for many years. SRS Roofing & Sheet Metal's professionals will install or repair metal wall panels correctly for years of superior structural protection.
Architectural Trim in Commercial Applications
When planning your commercial roof, do not forget to include necessary architectural trim. Soffits, fascia, gutters and downspouts are more important in commercial settings than residential uses.
Properly installed architectural trim can cover up any unsightly rough edges or joints, while adding value and aesthetic features to your business. Improperly installed trim can lead to safety hazards and expose your business to potential lawsuits. Trust SRS Roofing & Sheet Metal to install your commercial gutters, downspouts and other trim pieces safely and correctly.
Beautifully Installed Architectural Decorative Features
Hiding and protecting unseemly rooftop penetrations can be as simple as installing equipment screens or as extensive as adding a decorative mansard. A beautifully crafted decorative feature can draw attention and make a statement. They can also inhibit rust on steel and iron building applications.
Even if you're just covering up a slight rooftop imperfection, our team of highly trained roofing professionals will ensure you are happy with the end result. No matter which solution you choose, SRS Roofing & Sheet Metal will install it to your complete satisfaction.
Custom Copper, Aluminum and Stainless Steel Available
Metal roofs and roofing details in copper, aluminum and other premium metals are not a problem. We are confident you will be impressed with your new metal roof.
Aside from the incredible durability they offer, metal roofing systems are also environmentally friendly. Depending on the type of metal used, the metal is composed of 25-95% recycled materials.
They also reflect solar heat, which can reduce annual cooling costs by over 15%. With minimal maintenance, your new metal roof will have a long life. Some metal roofs stay in great condition for over 60 years! SRS Roofing & Sheet Metal can create your commercial roofing solution in any metal you require.
Trust SRS Roofing & Sheet Metal for your Metal Roofing Needs
Installing a commercial metal roof is a large, important investment. When choosing a metal roofing installation firm, trust SRS Roofing & Sheet Metal to get the job done. Every commercial roofing project we take has an owner on-site every day, ensuring your roof is installed correctly. An OSHA trained Safety Officer is present at each worksite to guarantee a safe work environment and finished product.
Our licensed commercial roofing professionals guarantee you will be happy with the finished result. Trust SRS Roofing & Sheet Metal for a proper, safe install of your commercial metal roof.
Contact the pitched roofing specialists at SRS Roofing & Sheet Metal for high quality metal roof systems.